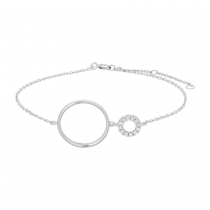 An elegant and trendy edition of the popular circle jewellery.
Here you get a lovely and simple rhodium sterling silver bracelet with a touch of glamour. The bracelet is part of our fine sparkle collection, where the larger circle is kept simple and the smaller one beside it is set with dazzling cubic zirconia.
The bracelet measures 17 cm with extra 3 cm for adjustments.