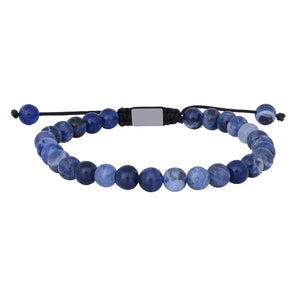 Bracelet shiny sodalite 19-25cm
Stone bracelets are trending right now and ought to be a standard item in any man's wardrobe! This bracelet is in shiny sodalite has a distinguished blue colour and a adjustable closing mechanism in steel. With its stylish design this bracelet is easily worn with a masculine silver watch or a raw leather bracelet.
This bracelet is adjustable and is min. 19 cm long and can be extended to max. 25 cm. It can easily be combined with our other bracelets for men for a unique look.